What kind of bird is Canary?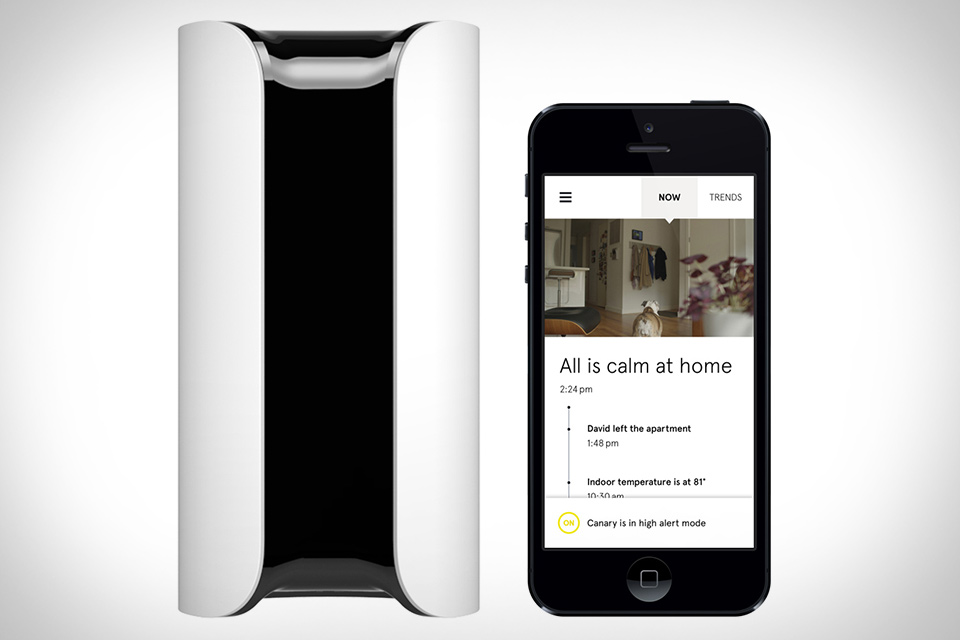 Canary is an indoors home monitoring solution for security and environmental monitoring in a single device.
Canary is your one stop shop for home security with a great camera sees an entire room and adjacent ones without space for missing almost anything. Canary features intelligent learning algorithms that can learn when you leave and arrive at home so it can arm and disarm on its' own. In the field of monitoring, Canary has a very competent air quality sensor to add to a very diverse array of other sensors (temperature, humidity, motion, light, sound).
What tricks does Canary do?
Unlike classic indoor security solutions that trigger alerts based on motion sensors and similar devices and are blind systems, Canary will allow visual confirmation of the detected situations. Furthermore, the setup is much simpler, less intrusive and doesn't require any wiring or placement of remote devices.

Only the Canary unit (or set of units) need to be placed and setup at the appropriate locations. Any motion detection alerts will be accompanied by video and dozens of false detections with classic indoor security systems will be avoided this way. You'll also be able to select actions when a detection happens, like calling the police and sounding Canary's internal siren. Canary is a simpler more powerful device than classic alarm solutions. Canary is also completely portable (thus renter friendly) and is also way cheaper than classic security solutions.
In some aspects, like automatic learning, Canary is even further ahead from it's competition in smart indoor video based alarms. This Canary won't give any trouble as it uses artificial intelligence algorithms to learn what is the normal activity at your home so it arms and disarms itself when you leave and arrive.
Don't hesitate in getting a Canary if you want a smart, all-in-one, security system and you're also into controlling the air quality in your home. Canary has a superb air quality sensor that detects smoke and measures gases that indicate a low quality air indoors like CO, CO2, NO2 or high air particles density. Minor disadvantages with Canary are you won't be able to get Video storage for free for more than 5 events and 12h. Consider Canary if you want a video security system but also an air quality sensor and simply don't want to pay for both as separate devices.
What's inside Canary?
Features table
Check for the best option to 
 Canary below.
Canary
Camera
Lens Type
Wide-angle 147º
Stream Resolution
FullHD 1920x1080
Megapixels
2
Night Vision (Infrared)
Features
Pan Tilt Zoom
Audio
Microphone only
Speakers exist but not enabled
Siren
90-100 dB
Detects
Motion (with Passive Infrared sensor)
Automation
Video Recording
Cloud, 12h + 5 events Free
Paid plans up to 90 days
Notifications
Push (App) Notification
Text/SMS Notification
Email Notification
Phone Notification
FTP Upload
Sensors
Motion sensor
Temperature sensor
Humidity sensor
Light sensor
Sound sensor
Accelerometer sensor
Air Quality sensors
Smoke, CO, NO2, PM2.5, PM10, CO2
Apps
Android App
4.0
iPhone App
iOS7+
Windows App
Web App
Technical
Power Source
USB
Power Consumption
Battery
Wall mountable
Wi-Fi
802.11 b/g/n
LAN
API
Cloud
Evaluation
4 / 5
Normal Price
$249
Price
$249 at Amazon
(pre-order)
 Always find the lowest prices at Amazon, see the new items link below the product summary, these are brand new products sold at different prices by different sellers, all backed by Amazon:
The result
Canary is, without any doubt, a good solution for indoor monitoring, both for security purposes as well as for home environmental quality. If you want to control both and take advantage of the great camera and lens as well as of the fantastic air quality sensor go ahead a get your own Canary (or set of Canaries).
You should also check our Comparison between Canary and other good indoor security systems and also our article on how this unit compares to others in weather monitoring.